Parnassius eversmanni Menetries, 1849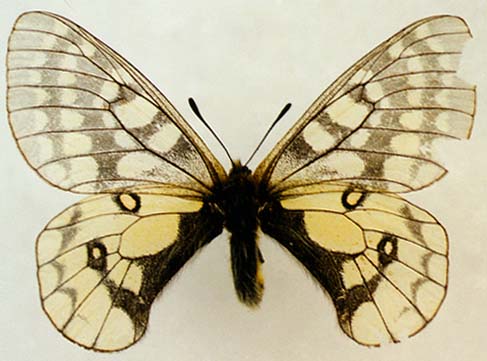 Parnassius eversmanni eversmanni Menetries, 1849
Male, RUSSIA, Chita province, Stanovoe highland, south part of the Kodar Range, headwater of the river Chara, 50 km WSW from Novaya Chara, alpine belt, 1700-2000 m, 27.VII 1995 (A. & R.Dudko, D.Lomakin leg.).
Самец, РОССИЯ, Читинская область, Становое нагорье, южная часть хребта Кодар, верховье реки Чара, 50 км ЗЮЗ пос. Новая Чара, альпийский пояс, 1700-2000 м н.ур.м., 27 июля 1995 (А.Дудко, Р.Дудко, Д.Ломакин).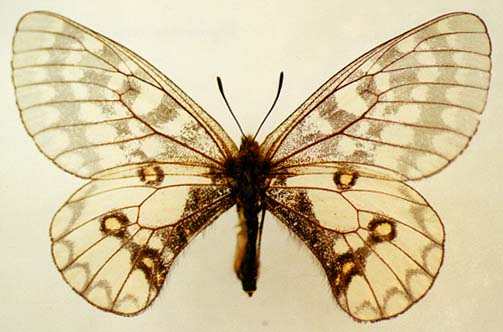 Parnassius eversmanni innae Kotshubei, 1929
Female, RUSSIA, Khabarovsk Province, Bureinskie Gory Range, Verkhne-Bereinskii District, Ezop Mt., upp from stream Urgal'skii, 29.VI 1978 (E.Novomodnyi leg.).
Самка, РОССИЯ, Хабаровский край, Буреинские горы, Верхне-Буреинский район, Эзоп, горы над ключом Ургальский, 29 июня 1978 (Е.Новомодный).
---

Go to the Museum Home Page | Go to Papilionidae Page